What is Commercial Auto Insurance?
Commercial Auto Insurance is coverage that provides protection against physical damage and bodily injury resulting from vehicle accidents. It should also provide some protection from theft and vandalism. This coverage is meant exclusively for autos used for business purposes. Personal auto insurance does not usually cover autos used in business and thus the need for commercial auto insurance. Commercial auto insurance provides much of the same coverage as personal auto, the major differences being in vehicles covered.
There are many types of usage for commercial vehicles in business; making one commercial auto policy fit for all situations is impossible. In order to provide the correct amount of coverage, no more and no less, all commercial auto policies utilize coverage symbols to denote what type of vehicles are used and how they are covered under the policy. Symbols 1–9 represent options for a) liability coverage and b) physical damage, medical payments and hired or non-owned coverage: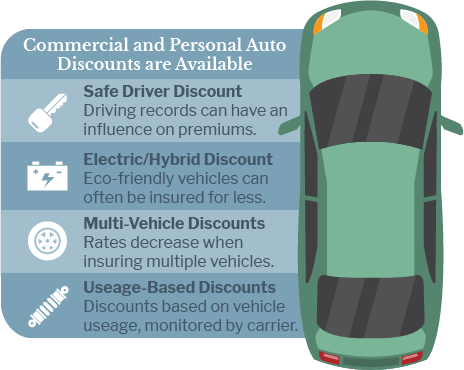 Symbol 1: any auto used for business.
Symbol 2: any auto owned by the business.
Symbol 3: owned private passenger vehicles only.
Symbol 4: owned autos with no owned personal vehicles.
Symbol 5: owned autos with personal injury protection (PIP).
Symbol 6: owned autos in states requiring uninsured motorist coverage.
Symbol 7: autos specifically listed in the policy.
Symbol 8: hired auto coverage.
Symbol 9: non-owned auto coverage.
More than one symbol can be used on each policy, but the more specific you are, the better your rate will be. For example, Symbol 1 is most often used alone as it applies to all vehicles and is the broadest category, also making it the highest rated. If you only want to cover specific vehicles and don't plan on using any other vehicle for business, then using Symbol 7, and listing those vehicles, would be a more explicit and better-rated option.
However, while you want to be as specific as possible, you want to ensure you are protecting your business from all potential risks. Is it reasonable to think that you or an employee will never use a personal vehicle for business? What if your commercial vehicle is out of commission or on a job? What if you, or an employee, rent a vehicle while out of town on business? Every time someone uses a vehicle not owned by the business to perform a business-related function, the business is at risk.
Having hired and non-owned auto coverage will protect your business from the liabilities associated with non-owned vehicles. It will cover bodily injury and property damage caused by a rented or borrowed vehicle, as well as vehicles owned by your employees. Hired and non-owned auto coverage is suggested for every business owner and can be added to most general liability insurance policies, as well as to packaged policies.
Options and coverages will vary between insurance carriers so it is very important to understand your policy regarding what is, and is not, included. The Insurance Shop specialists take their time to help customers fully understand what coverage they are getting and what may be excluded. It is important to work with someone who can help you define what you need in a commercial auto policy and provide that policy at a great price with a great insurance carrier.
There are many options for coverage as well as limits, or coverage amounts, and deductibles that you and your agent will choose. Typically a commercial auto policy includes the following:
Bodily injury and property damage liability (injury and damage to others).
Bodily injury to driver and passengers, including medical and lost wage expenses.
Optional bodily injury coverage, extended to include injury occurring outside of the state in which you reside.
Collision, costs associated with an accident (regardless of who is at fault).
Comprehensive, covers all over damage other than collision.
Medical payments coverage, additional coverage for hospitalizations, treatments and funeral expenses.
Uninsured and underinsured motorist coverage.
Non-owned auto, covers employees driving rented or borrowed vehicles.
Loading and unloading liability coverage.
Towing and labor cost coverage.
Substitution transportation coverage, covers a loaner vehicle from an auto repair shop when your commercial vehicle is being repaired.