What is Workers Compensation Insurance?
Workers compensation insurance is coverage for both employer and employee. It covers employees injured in the course of employment with wage replacement and medical benefits. It also protects the employer, as a provision of the laws requiring this coverage employees cannot generally sue their employer for work-related injuries. It provides benefits regardless of who was at fault, and in the event of a work-related death, workers compensation provides death benefits for the employee's dependents.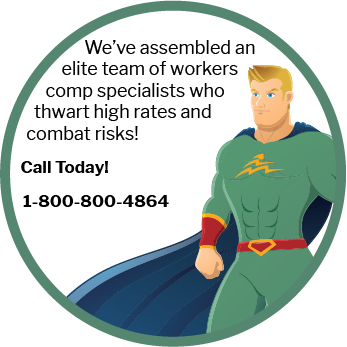 Workers compensation insurance, or workers comp as it is commonly known, is required by state law. Each state controls their own workers compensation program, therefore there can be big differences between state laws and regulations. The state has a lot of say in how coverage is provided by an employer for employees should a work-related injury occur. Requirements for such features as types of benefits entitled to, what impairments/injuries are covered, how injuries are to be evaluated and how medical care is to be delivered all differ from state to state. States also decide whether workers comp is provided by state-run agencies or by private insurance agencies. Additionally, they establish how claims are handled and how disputes are resolved, as well as assign limits to some benefits to control costs. For all of the above reasons, shopping for workers compensation insurance can be challenging, even if you are a simple small business. For businesses that border other states, or send employees traveling across state lines for any reason, even more factors must be considered. The experts at The Insurance Shop know every state workers comp regulation in the U.S. and are ready to help you navigate those waters when you're ready!
Speaking in general terms (since not every state will require the same coverage) injuries employees sustained in the workplace or anywhere else while the employee is acting in the "course and scope" of employment are covered under workers compensation insurance. For example, an injury may occur in the workplace while performing work duties or it could occur away from the workplace, as long as the employee is performing work duties. The leading cause of workers comp death claims is traffic accidents1, employees using either business or personal vehicles while performing some work-related task. (Driving to and from workplace does not qualify as a work-related task.)
In addition to work-related injuries from accidents, workers compensation insurance may cover injuries employees may sustain during other events that could occur while at work. Such events include workplace violence, terrorist attacks and natural disasters. There are also certain illnesses and occupational diseases, as defined in state statutes, which are covered through workers comp. For example, an employee who becomes ill after working with a toxic chemical.
---
1According to Bureau of Labor Statistics (2015 data).