What is Personal Auto Insurance?
Personal auto insurance is required by almost every state, however purchasing the minimal coverage required by law is not recommended. Firstly, it can be much more costly than an insurance premium. The average auto claim costs approximately $1,000. The average auto insurance premium is approximately $800.00 a year.
There are many coverages included and optional for personal auto insurance. Options and coverages will vary between insurance carriers so it is very important to understand your policy regarding what is, and is not, included. The Insurance Shop specialists take their time to help customers fully understand what coverage they are getting and what may be excluded. It is important to work with someone who can help you define what you need in an auto policy and provide that policy at a great price with a great insurance carrier.
There are typically six main coverages used to insure autos.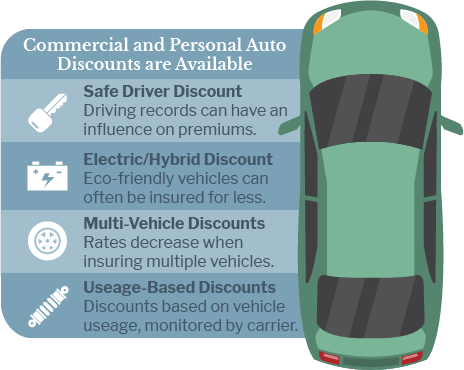 Liability coverage. This covers claims against you for any bodily injury or property damage resulting from an accident. It can also pay defense costs if should you be sued by passengers in your car or in other car involved in the accident.
Collision coverage. This coverage will help pay for any damage done to your vehicle as a result of a collision with another vehicle or object.
Comprehensive coverage.This coverage applies to damage resulting from event other than collision; such as theft, vandalism or even wild animals.
Personal injury protection. This covers medical expenses, and sometimes lost wages or other damages, regardless of who is found at fault for accident. Also known as no-fault insurance.
Uninsured/underinsured motorist coverage. As the name suggests, this coverage protects you from paying out of pocket if an uninsured or underinsured vehicle is at fault in an accident.
Medical payments coverage. Covers medical payments for anyone injured while in your vehicle, regardless of who is at fault.
There are many optional coverages you can add to your policy should your needs be more specific.
Loan/lease gap insurance.
Rental coverage.
Roadside assistance.
New car replacement.
Accident forgiveness.
Ride sharing (such as Lyft and Uber).
A large part of how personal auto insurance works includes deductibles and limits. The deductible is an agreed upon amount that the insured will pay out of pocket. Insurance kicks in once that deductible is met. The more you agree to pay out of pocket, the lower your insurance rate will be. There are also limits applied to your car insurance. The limit refers to the agreed upon cap in how much money the insurance company will pay per claim. Contrasting how deductibles work, the lower your limit, the lower your rates. These two factors greatly affect your premiums, which is why you should work with a personal auto specialist who will make sure you don't under or over insure your vehicle.