EE Benefits
Providing a well-rounded and robust benefits program to your employees is the key to attracting new talent, as well as retaining personnel. Healthcare has been a polarizing subject in the U.S. as of late and when healthcare needs can be addressed through an employer, an employee is much happier. Happy employees equate to high productivity and high retention rates for the employer.
Benefit programs can include group health, dental, vision and life, as well as options for 401k retirement plans, disability benefits and voluntary benefits.
Group Health
Group health insurance is often the most expensive and most important employee benefit for employers and employees. Most insurance companies require employers to cover a minimum of 50 percent of the premium for each participating employee. There are many options when choosing the right group plan for your business. You must decide if you will offer an HMO, PPO or HSA, as well as coverage for maternity leave. You may also be able to choose your deductibles and co-pays. Premiums will be affected by several factors, some can be controlled, while others cannot. Previous claims, employee demographics, provider contracts, business location, plan design (HMO, PPO, HSA) and healthcare reform are the major factors that will both increase and decrease premiums.
Group Dental
Group dental insurance comes in many forms. It can be a basic as providing preventative care only or very comprehensive by providing such coverage as for orthodontics. Dental programs can also be voluntary, meaning employees can opt out of coverage. Dental services can be very costly, even with insurance, so negotiating good deductibles, co-pays and premiums are crucial.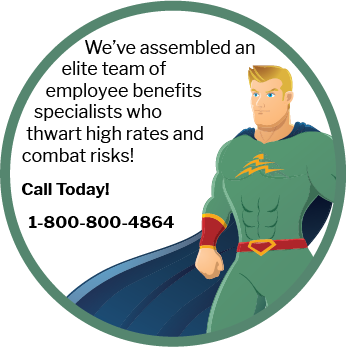 Group Vision
Group vision insurance gives employees access to routine eye care benefits such as eyeglasses, contacts, LASIK and other eye-related surgeries. Group vision doesn't usually add much cost to an employee benefits program, but it does add great value. When an employee has access to vision insurance they maintain better eye health, which impacts their productivity and may even prevent some cumulative traumas such as eye strain.
Group Life
A group life insurance program pools all employees within a business together. By doing so, the program has easier underwriting guidelines and thus receives better discounts for coverage. Term life insurance is the most common form of group life insurance. The coverage has become a popular employee benefit as it is typically less expensive than individual life coverage. Premiums for group life are primarily determined by group demographics, giving otherwise hard to insure employees an affordable way to get covered. Group life programs are often contributed to by the employer and/or made voluntary to the employees.
Group Disability
Group disability insurance provides some protection to employees in the event of disability. There are two forms of disability coverage: short-term and long-term. If an employee becomes disabled, for whatever reason, and stops receiving a paycheck, disability benefits will typically pay between 50 and 60 percent of wages (or sometimes a flat dollar amount stipulated by the policy). There are usually constraints in the policy indicating coverage and waiting periods before benefits are activated. Short-term plans cost less than long-term plans and generally are constrained to 13-26 weeks of coverage. Long-term plans can pay benefits up until retirement, or age 65, which is why this plan often costs much more than short-term policies. Waiting periods are typically between 90 and 180 days before coverage will take affect. While it may seem practical to only offer short-term disability, it is wise to take a big picture look at your business and the type of risks you're exposed to, before determining what plans to purchase.
Voluntary Benefits
Voluntary benefits are those offered by the employer but are not sponsored, or paid into, by the employer. The employees still enjoy the lower premiums offered through a group plan, however. They can include such benefits as indemnity health, dental and vision, as well as prepaid legal benefits and identity theft protection. These voluntary benefits cost little to nothing to the employer, but add great value to their group benefits package as a whole, creating a competitive and attractive workplace for employees.
401k Retirement
A 401k retirement plan is an IRS qualified plan established by employers for the benefit of employees on a voluntary basis. These plans allow employees to defer a portion of their wages, pre-taxed, into an investment portfolio, chosen and managed by the employer, for the purpose of their retirement. 401k plans come in all sizes to match a business' needs. Some plans don't need any monitoring at all, they are simple, "out of the box," solutions that will provide employees with some savings, but won't be a burden on the employer. Of course, there are plans that can be built from the ground up and managed by financial advisors as well. All types of 401k retirement plans have benefits to both parties, depending on the size of the business and how much time can be allocated to managing the fund.